Step-by-Step Guide
There are a lot of really good sites out there and some of them are listed in this guide. As an example of what is on offer I am going to concentrate on
www.ala.org/greatsites
and a site that is linked to it,
www.dawcl.com
When you connect to
www.ala.org/greatsites
by clicking into the URL
address
box and typing in the above
address,
take your time to look in the left-hand side column.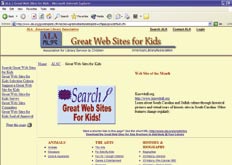 The first option is
Search Great Websites for Kids
. This
search
allows you to
search
by Intended Audience,
Keyword
or by
URL.
Intended audience refers to the age group for which you are searching.
Keyword
is obviously that and it is important that you be specific in your
search
terms to get the best results.
URL
refers to Unique Resource Locator which is the actual
web
page
address.
The second option is
Great Websites for Kids Selection Criteria
. This information is very useful for anybody surfing the net and I would recommend that you take a look at it.
Other options included on this site are a users survey which, if completed, helps the
web
page administrators keep up with clients' requirements; an option to suggest a good
website
(if you have come across or if you have created a good reputable
website
you can suggest it and it will be vetted by the committee and given the seal of approval); and there is also a
link
to the current committee with contact addresses and telephone numbers. The members are all based in the U.S.
The main page content is categorised by subject headings: Animals, Literature and Languages, Sciences, The Arts, Reference Desk, History and Biography, Mathematics and Computers, Social Sciences and there is a
link
in the bottom right hand corner to Sites for Parents, Caregivers, Teachers and Others.
If you
click on
Sites for Parents, Caregivers, Teachers and Others
you will see that sites have been colour coded appropriate to age group.
Appropriate for PreK aged youth refers to 0-4 year olds
.Appropriate for Elementary aged youth refers to 5-10 year olds.
Appropriate for Middle School aged youth refers to 10-14 year olds .
For Parents/Teachers/Caregivers is self explanatory.
There then follows a list of recommended sites, some are coded but most are not.
If you
click on
Literature and Languages
there are links to sites aboutAuthors and Illustrators, which are all colour coded for age suitability.
There are a lot of sites listed but the list is not definitive.
Another heading in this section is
Expanding the Classics
. This is colourcoded with sites about Shakespeare, Jane Austen, Hemingway, CharlesDickens, To Kill a Mockingbird, Snow White and others.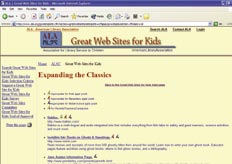 Writing By Children
has links to four interactive sites for young readers and writers. The links are fairly self explanatory.
Parents might want to look at these as well.